Do interest rates really matter to home sellers? Will interest rates stay this low all year?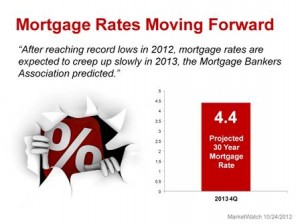 As you can see on the attached chart, the Mortgage Bankers Association is projecting interest rates to inch up this year to 4.4 percent.
If you have been thinking about selling your home and moving up, let's take a look at those two scenarios on the chart below. If you bought that house today instead of waiting, that is the first home. If you wait until the end of the year, first of all, home prices are almost certainly going to go up in our market, and second, interest rates are projected to go up. You put those two things together and the cost of the home, not just the price, but the cost of the home in this example is up $262.09 per month. Multiply that out. We are talking about an over $90,000 savings over the lifetime of the mortgage.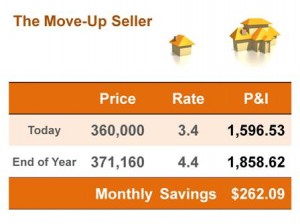 I know this may be a little confusing, but when you look at the difference between acting now and waiting, it really is significant. My job is to help families make the right decisions for themselves and their family.