The Parker Task Force, Parker Food Bank is a great 100% volunteer organization right here in our community.  Their primary mission is to prevent homelessness and they do this by helping families in crisis with food and financial assistance, with a goal of helping families return to self-sufficiency.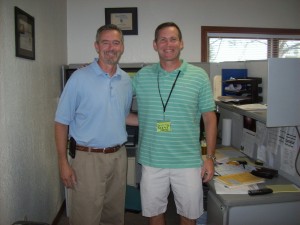 I was happy to be able to make a small donation to the Parker Task Force and Chairman Steve Budnack last week as a result of my recent advertising campaign.  I teamed with a popular local restaurant, August Moon, and offered to make a donation to Parker Task Force if customers used one of my special coupons.
I strive to make a difference in the lives of my home buyers and sellers through unparalleled service.  I also partner with my clients to make a difference in the lives of those who are less fortunate by contributing a percentage of my commission to select organizations chosen by my clients.  Additionally, I help promote other area businesses to help make a difference in our local economy.
Having been in the real estate business in Parker for over 20 years now, I know that it's in the giving that we receive so I dedicate myself and my business to giving whenever possible.