Our first annual food drive to benefit the Parker Task Force/Food Bank was a great success.  Thanks to all who volunteered and participated.   We enjoyed a mix of rain and sun in the morning as we set up in the Stroh Ranch Rec center parking lot. Mary Beth and all the staff were so helpful and had even collected a few drop offs from the early birds.  I was there with my wife Laura, daughters Elizabeth and Erin.  Mark Gomez volunteered to stand out in the cold and help too.  Thank you Mark!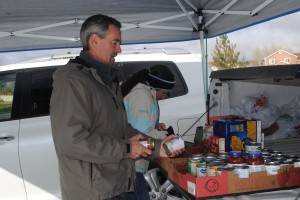 Donations are dropped off
In the afternoon we moved over to the  Canterberry Crossing pool parking lot.  You would think the afternoon would be warmer, but no such luck.  While setting up in a snow shower, we were afraid it might be a long afternoon.  However, the sun did peak out.  What really warmed our spirits (and us), was when Chris Brantley and daughter Laura stopped by with hot chocolate.  Thank you Chris and Laura. Your timing could not have been better!  Thanks to Marsha Miller with the Canterberry Crossing Homeowners Association for your help in getting the word out.
I then dropped off a very, very full car load of donations to the Parker Food Bank.  Director Steve Budnack and his great group of volunteers helped unload and organize all of the generous contributions.  The food could not have come at a better time.  The need in our community continues daily. Thank you one and all for a very successful first annual food drive.